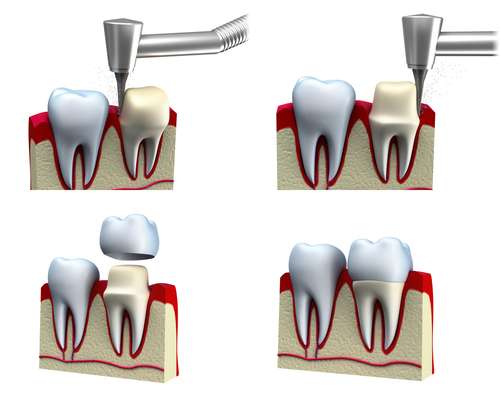 As a CEREC dentist, we provide the best possible patient care in our dental office. If you have ever needed to restore a tooth or if you have had a tooth with severe decay, there is a good chance that you might have a dental crown. A crown is an incredibly common solution for restoring and protecting teeth because it is a cap that surrounds your tooth entirely. It can be made to match your surrounding teeth and blend in. This has made crowns ideal for restoring a tooth after an accident. What is not ideal is how long it normally takes. In most cases, a crown is placed in two or three separate appointments – inconvenient for people with busy schedules.
We have changed the way that dental crowns are placed and are making it easier than ever to receive the dental care you need, including essential restorations. With CEREC, we can provide you with a chairside restoration so that you can walk in with a damaged tooth and leave with one that is completely restored in both form and function.
Here is how it works –
It all starts with the imaging. With traditional crowns, an impression is made of your mouth and measurements are taken so that information can be sent to the dental lab for the crowns to be created. With a CEREC dentist, the images are digital. Once we take them, they are uploaded into our CAD/CAM software. The software will make a 3D image of what your tooth looks like and a blueprint for the crown. That information is sent to our milling machine that goes to work printing the crown while you wait. This aspect of the process is what allows us to place a new crown on your tooth during one appointment, rather than requiring you to come back.
In both scenarios, when the crown is being created, your tooth will need to be prepared. This is done by removing a portion of the enamel from around your tooth so that the crown will lay flat with minimal irritation to the surrounding teeth. This is the same for both procedures, but the difference comes down to whether or not you need to wear a temporary crown. Since your tooth will be sensitive after being prepared, we cannot leave it unprotected. Under traditional circumstances, a temporary crown would be placed around your tooth until the lab was finished creating the permanent one. Temporaries are held in place with a water-based removable glue, so they are not designed to be as durable as the finished product. This means that you will have to watch what you eat and be careful with your tooth-brushing routine. As a CEREC dentist, we make it possible to avoid this step. Since we can provide you with a permanent dental crown in one visit, you do not need to worry about what you are going to eat or needing to find time for a second appointment. If you have been in an accident and need a restoration, call us for the fastest solution.
---
Related Posts
November 15, 2016
If you need to have a tooth restored, consider CEREC dentistry. This is the best way to restore a damaged tooth because the process is faster than it would be with a traditional dental crown. …
---